CURA™ FORECASTING: AN INNOVATIVE PROJECT CONTROLS SOLUTION
EMPOWERING ORGANIZATIONS WITH THE ABILITY TO FORECAST ACCURATELY
Forecast accuracy is a critical component to the overall success and sustainability of large public and private sector entities. Even with effective executive governance, standard processes, and supporting technologies, organizations struggle to integrate data across multiple sources to generate timely and accurate project forecasts on a monthly and annual basis.
The key to addressing these challenges and effectively managing a portfolio lies in consolidating data, establishing a standard forecasting process, and automating legacy manual practices. Software such as CURA™ Forecasting can manage many large-scale projects, utilize time and analyze the impact of the entire portfolio.
Our innovative CURA™ Forecasting software provides you with the technology and capability to take control of your project, and program forecasts, predict future costs, track monthly and yearly forecasts, and optimize capital at the right time and at a reasonable price. Taking control of your cash and making informed decisions based on influences that impact your project has never been easier.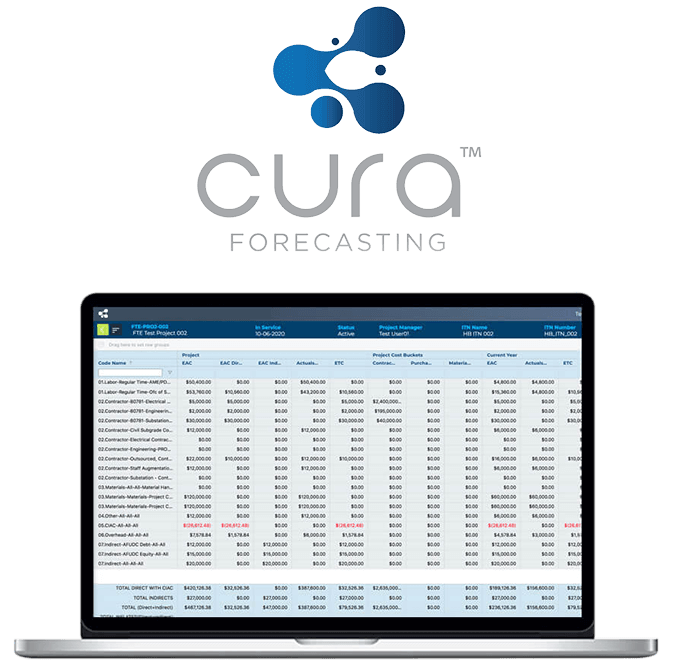 CURA™ Forecasting is an accessible platform with a web-based user interface to replace your legacy spreadsheets. CURA™ Forecasting enables organizations to view multiple projects and adjust these projects at the same time while visually analyzing forecasts.
CURA™ Forecasting provides a centralized and standardized forecasting method across your entire enterprise, maximizing time for utility managers and the ability to control a large number of projects on a weekly and monthly basis to effectively manage costs.

Easy to use interface to quickly generate, view and update monthly and annual forecasts

Automate the consolidation of direct and indirect cost data from multiple disparate sources

Measure and track forecast accuracy across projects and programs

COST-ADJUSTED FORECASTING
Define and auto-calculate forecast elements based on other cost information

Centralize and standardize forecasting business practices across the organization

Perform historical analysis and trending in support of continuous improvement
DATA CONSOLIDATION & INSIGHT
CURA™ Forecasting consolidates data points from disparate sources into a single platform, providing valuable insights that are easy to analyze and interpret. Our web-based platform allows you to access critical project and program information, accurately generate forecasts and streamline tracking across a broad scope of industries such as mining, defense, finance, government, and utilities.
If you're looking to forecast multiple scenarios for the next fiscal year or multiple years, CURA™ Forecasting gives you the ability to do this and execute plans based on precise information and forecasts.
REAL-TIME UPDATES & AUTOMATION
Our CURA™ Forecasting software removes the uncertainty of fixed data points and grants your projects the benefit of applying lucid, immediate auto calculations and corrections to your forecast model, based on real-time updates of cost information and other forecast elements.
Real-time adjustments to forecasting help identify potential cost overruns and mitigate risks across a project. Implementing CURA™ Forecasting will give you the confidence to effectively manage project resources and costs.
HISTORICAL ANALYSIS FOR DATA-DRIVEN FORECASTING
Our data-driven Forecasting harbors the potential to revolutionize the way you manage forecasts. CURA™ Forecasting takes a historical analysis of previous forecasts, examines, and correctly reviews information to generate powerful forecasting models for the future. Historical analysis helps to support continuous forecasting improvement and allows you to make modifications to your forecast, particularly when adopting organizational change.
FEATURES OF CURA™ FORECASTING
CURA™ Forecasting is flexible to set up on any database and can capture the long-range plan for utility organizations before the next fiscal year. With many robust features, you can forecast programs at the program level. Unique features of CURA™ Forecasting include:
Ability to forecast direct and indirect costs.
Built-in calculations for AFUDC and CIAC material handling specific to the utility industry to forecast dollars, hours, and FTE.
Capability to sit on top of Unifier or any database and extract data.
Forecast results as a corporate reporting tool or system of record.
Accurate forecasts on a user-friendly technology.
Ability to replace historical toolsets.
Has a pre-built dashboard to support KPIs across projects and programs.
Capability to forecast variances from month to month.
Delivers accurate information on a monthly and annual basis to optimize resources.
With CURA™ Forecasting, your organizations can immediately gain visibility of forecasts for an overall program or entire portfolio. CURA™ Forecasting delivers flexibility for construction projects as the software enables managers to adapt to supply chain issues, unexpected challenges, and other unforeseen impacts to effectively manage resources and costs across projects.
LEARN MORE ABOUT CURA™ FORECASTING
Realize the potential of sophisticated modeling, integrated data, and precise analysis on a single user-friendly interface to convert complex variables into actionable insights and better manage your assets, resources, projects and programs.